Stillwater Medical Center, centrally located for easy access from surrounding communities, is an integral part of the community with more than a dozen medical facilities under its umbrella.
The Stillwater Medical Center provides a wide range of surgery services including orthopedic, gynecology, urology, ear/nose/throat and general surgery.
In addition, SMC offers comprehensive medical services including: cardiovascular, cancer care, emergency, home health, laboratory, labor and delivery, medical supplies, radiology, rehabilitation, stroke, surgery, wellness, and wound care.
It is also the home of Barry Sander's Heisman Trophy, the NCAA baseball player of the century, and several of the greatest wrestlers in history. Its golfers go on to become household names, like Rickie Fowler, Hunter Mahan and Morgan Hoffman. Its biggest booster, T. Boone Pickens, is already a household name.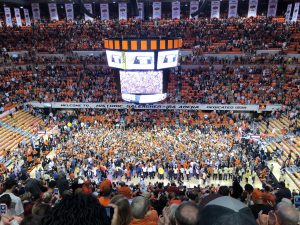 OSU Athletics boast 52 national championships, the most in the Big 12 Conference and a total better than all but three schools in America. Visit the Heritage Hall museum in Gallagher-Iba Arena to take in some of OSU's greatest championship moments and athletics history.
Fans and alumni of Oklahoma State University have long been blessed with one of the nation's most well-rounded athletic departments. From bowl games in the fall and Final Four championships in March to the College World Series in June, the cheering and winning never stops in Stillwater.
With 16 varsity athletic programs, OSU hosts hundreds of home sporting events a year.
Stillwater High School Athletics
If you're looking for great 6A high school athletics, Stillwater has that, too. The Stillwater Pioneers and Lady Pioneers are rich in tradition and winning. From wrestling to swimming and football to volleyball, SHS has an athletic event for everyone.
For football and soccer fans, Pioneer Stadium is one of the newest and nicest venues to catch a game in the state of Oklahoma. The home side seats 4,000 fans, and the visiting side seats 2,000.
The City of Stillwater Parks and Recreation Department manages more than 5,000 acres (20 km2) of parkland, including five ball complexes, ten tennis courts, two disc-golf courses, four lakes, one swimming pool, 14 playgrounds, and one skate and BMX bike ramp.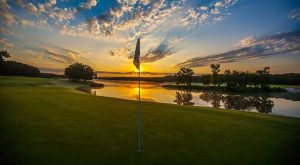 If you want to go fishing or just have fun on the water, head over to Lake
 McMurtry, Lake Carl Blackwell, or Boomer Lake. For a peaceful walk or an educational experience, you can check out The Botanic Garden at Oklahoma State University.
For those who want to enjoy a round of golf, Stillwater is home to four courses to meet your needs.
Stillwater has several performing arts venues:
The new McKnight Center for the Performing Arts will be a staple of Stillwater's arts and humanities culture. The center will encourage discovery, push educational boundaries and redefine the university's influence in the arts with world-class programming unique to the region. It will be a modern venue for OSU's talented students, accomplished faculty, and members of the community to enjoy with facilities built for producing world-class talent in mind.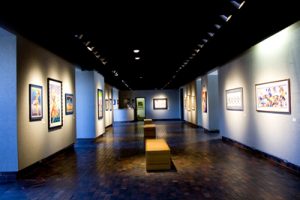 For those who want to check out the museums and art galleries in town, head over and look through what Stillwater has to offer.
Stillwater is known as the home of red dirt music. Notable red dirt artists from Stillwater include Cross Canadian Ragweed, Jason Boland and the Stragglers, the Red Dirt Rangers, The Great Divide, No Justice, Jenny Labow, the Jason Savory Band, and the father of red dirt music, Bob Childers.
The Tumbleweed Dance Hall, home of the world-famous annual Calf Fry Music Festival, was nominated for a "Dancehall of the Year" award by the Academy of Country Music.
Stillwater is served by a number of paved and unpaved bicycle and walking trails for non-motorized forms of transit. The Kameoka Trail Corridor includes a 3-mile (5 km) loop around Boomer Lake and additional disconnected segments throughout the city.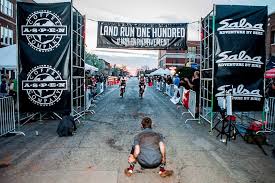 Other multi-use trails include an asphalt trail through Couch Park, a dirt nature trail around Sanborn Lake, bike and pedestrian trails at Lake McMurtry, and a 1-mile (1.6 km) gravel screenings loop at the Oklahoma Technology & Research Park.
Stillwater also has exciting things to offer children and the whole family.
Consisting of more than 11 blocks of shopping and dining opportunities, Historic Downtown Stillwater offers the latest foodie hotspots, live music venues, one-of-a-kind shops and year-round holiday celebrations.