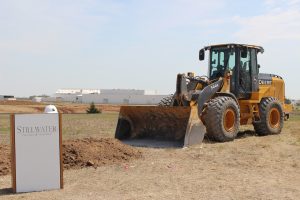 Commerce Place is a 65-acre, shovel-ready industrial park owned by the Stillwater Chamber of Commerce for the purpose of economic development. The land is located on North Perkins Road and East Airport Road fewer than 2 miles from the Stillwater Regional Airport. The 23 acres fronting North Perkins Road are zoned Commercial General with the intentions of having businesses locate in the park that will support the industrial area. The 42 acres east of the Stillwater Central Railroad spur are zoned Industrial General. We can accommodate companies looking for 0.5 acres all the way to 18+ acre tracts.
Locate your next facility at the corner of Progress Avenue and Prosperity Lane at Commerce Place in Stillwater, Oklahoma! All utilities, site work, storm water detention and access roads are in place.
Contact the economic development team for purchase inquiries or questions.